Why Run or Walk In This Event?
The  Run For Recovery 5K Run & 2K Walk is a fund raising event to support the Union Mission.  We are not fancy but we will give you a nice shirt!  (If you want one!) You don't have to be a runner to participate as we have a 2K (which is 1.2 miles) walk.  The Union Mission of Fairmont feeds the hungry, shelters the homeless and helps those who struggle with addiction.  Please join us so that we can help them help the less fortunate.  THANK YOU!!
You can participate either as an individual or consider making or joining a non-competitive "Spirit Team"!   SPECIAL…SAVE $5 on your registration by simply creating a team or joining a team.  You will see this opportunity on the online registration form.  It's easy to form or join a team, just invite your family, friends, co-workers, neighbors to register and select your team from the list.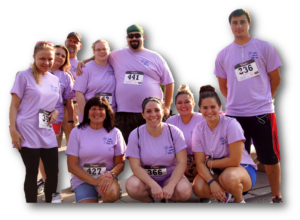 SO WHAT IS A "SPIRIT TEAM"?  It's all for FUN!  We will give out special fun awards to those teams that have the most TEAM  spirit,  largest team,  best dressed team etc.  This is a family friendly event that will be fun for all ages and abilities,  from runners who want to improve their 5K time to those who just enjoy a brisk or leisurely walk!
Race/Walk Date &Time:
Saturday, July 23rd at 9am.  Event will be held rain or shine!
Location:
Starts and finishes at the Union Mission, 107 Jefferson Street in downtown Fairmont.
Donation/Entry Fee Schedule: 
All registration is now conducted online and will close online at 12Noon on Friday, July 22nd-  Late Registration will be taken on race day Saturday, July 23rd at the run/walk location at 107 Jefferson Street starting at 7:45am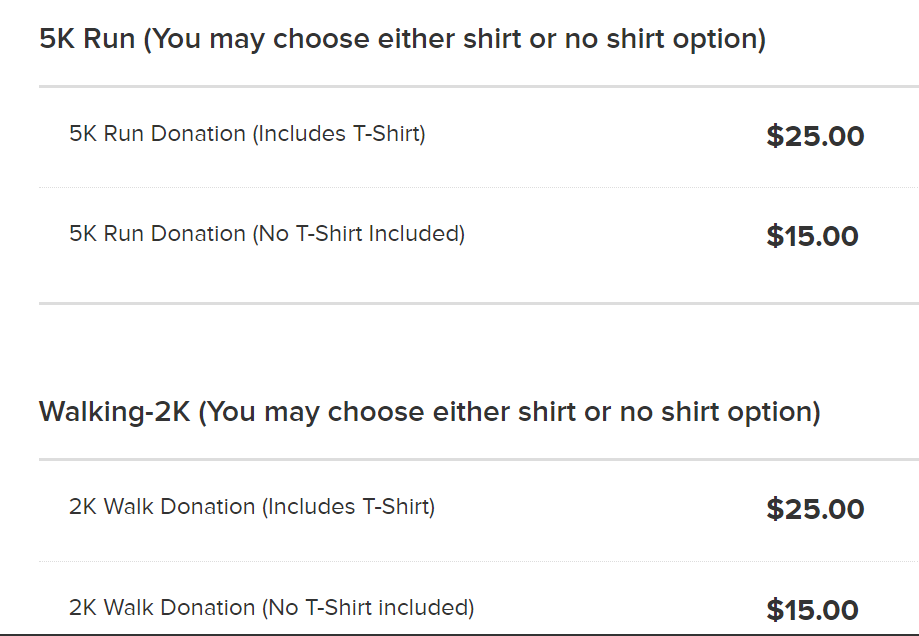 RACE DAY LATE  REGISTRATION ON JULY 23RD:    $35.00 -5K Run or 2K Walk.  Accepted from 7:45am to 8:30am only. Sorry no team discounts on race day.   Cash or check only payable to: West Virginia Rescue Ministries.  Sorry shirts not guaranteed for late registration.   Please register online before July 4th to get a shirt! Post race snacks and refreshments will be provided to all who participate!
Awards:
For the 5K there will be awards for the top 3 overall finishers both male and female as well as the top 3 in each age group both male and female.
5K Age Groups are: (Separate Male and Female) 9 & under, 10-19, 20-29, 30-39, 40-49, 50-59, 60-69, 70 7 up.  All 2K Walkers/Joggers/Kids Runners will get a finisher ribbon!!
Course Map:
The 5K and the 2K both start and finish at the Union Mission located at 107 Jefferson Street in Fairmont, WV 26554.
The 5K (3.1 Mile) course map is COMING SOON!
The 2K (1.2) course resembles the first 1.2 miles of the 5K course.
Early Packet Pick Up
Will be Friday, July 22 from 5:30pm to 7:30pm at the Mission which is located at 107 Jefferson Street in Fairmont.   Weather permitting we will be set up outdoors.   Look for the large START flag and pop up tent!   We strongly encourage that you pick up your shirt and bib number at Early Packet pick up to avoid long lines on race morning.  Thank you.
Thank You For Caring..
Please share information about this race with your family, friends, co-workers and neighbors.   We can do good things for those who struggle in our community by using our FEET as well as our hearts!
We Need More Sponsors!
Additional sponsors are need to help make this event a success! Would your business like to get involved?  Perhaps you are running or walking and your employer might wish to sponsor?  For more information on possible sponsorship opportunities please contact Scott Robertson,  Race Director  at (304) 844-7244 or email him at srobertson@andersonexcavating.com
Have questions??
Shoot us an email by contacting Race Director Scott Robertson at srobertson@andersonexcavating.com   We will get back to you as soon as possible!

Check out these other races that benefit wonderful causes as well:
July 16th The Dowdy Dash 5K in Grafton to benefit Dan Dowdy's fight against his cancer. 
July 29th The Run To Read 5K & 10K in Fairmont to benefit the Literacy Volunteers of Marion County
August 13th The Miles For Meg 5K in Fairmont to benefit the Maruka Family Fairmont Senior High School Foundation Scholarship
PAST RESULTS-2019 EVENT
Run For Recovery is more than just a regular 5k run or 2k walk.  We are raising funds to help the Union Mission of Fairmont.  Your participation will help the Mission  to provide food,  shelter and clothing to the homeless and to assist those struggling with addiction.