Welcome!  Faithful Feet Running & Walking to Support Good Causes is requesting volunteer help for this wonderful organization..below you will find details about the Faithful Servants Mission and a button to learn more about the available volunteer jobs and volunteer registration.  Thank you!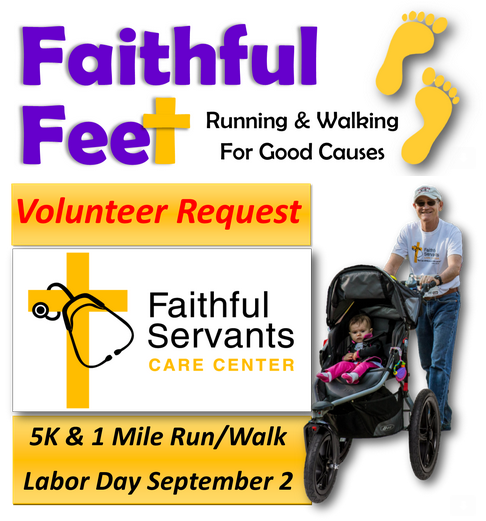 We are kindly requesting your assistance for another event which will be held on Labor Day, September 2nd.  The Faithful Servants Free Medical Clinic 5K Run/Walk needs our help.  We would love for you to be part of our team and serve this fantastic organization.  If you are able to assist us this year follow the link at the bottom of this email and register.  Thank you for caring about those in our community who are often forgotten.  We hope to see you on September 2nd. 

Here is more information about the all volunteer Faithful Servants Mission:
Faithful Servants Care Center located in Tallmadge is a Christian mission that provides free urgent care medical services for those without insurance or the economic means to access traditional health care.
This free medical clinic was founded 7 years ago by Drs. Sue and Mark Meyer . In partnership with many local churches and thanks to the compassionate volunteer Doctors, Nurses, along with the lay office staff, they now operate the main care center in Tallmadge along with 2 satellite care centers in Akron.
To celebrate 7 great years of faithful service to the community, and to let the community know about our mission, we are having our 3rd Annual 5K Run and 1 Mile Family Fun Run/Walk on Labor Day Monday, September 2nd in Tallmadge. We are kindly seeking help from the community to make this event a success.
Many additional hands and feet will be needed to provide a great morning of family fun activities for the runners and walkers. Can you possibly donate a few hours on Labor Day morning to help us?
We have a variety of fun volunteer opportunities that day which require no special skills or backgrounds, just a willingness and desire to serve those who are participating have an enjoyable experience.
To see a list of those volunteer jobs along with brief descriptions of the duties please click the volunteer registration button below. We are utilizing Active.com's online volunteer management service to register our volunteers. It's quick and easy to read about available volunteer jobs and/or to sign up for one.
We encourage all individuals, service clubs, Church adult and youth groups to volunteer this Labor Day to help Faithful Servants Care Center Mission to continue providing those less fortunate with quality and compassionate medical care.
For more information please feel free to contact Faithful Servants Volunteer David Cooper at David@TeamCarpenter.org