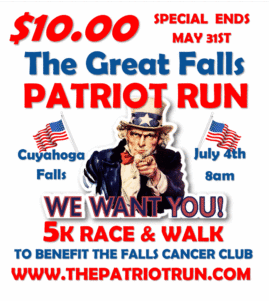 What Is A Spirit Team?   It's any group of 2 or more people who want to support the Falls Cancer Club by participating in The Great Falls Patriot Run/Walk on July 4th in Cuyahoga Falls.   Your Spirit Team members will each get a FREE T-Shirt and FREE entry into The Great Falls Patriot Run/Walk with a donation to the Falls Cancer Club of only $10 per Spirit Team member. (plus online transaction fees)  Hurry this is a limited time offer.   Spirit Team registration closes at midnight on May 31st!
How Does It Work and How Do We Register Our Team?   It's easy to form a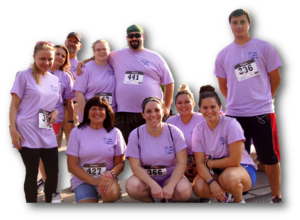 Spirit Team.   Gather up any combination of 2 or more adults or children to make a team.  Team Members can be family, friends, neighbors or co-workers.   Your Spirit Team can be any mix of walkers, runners or strollers who want to attend our event on July 4th.   Pick a Team Captain and a Team Name.   Your Captain must then register your team here at the Spirit Team registration site (Click on Uncle Sam below) before the Team Registration Deadline which is May 31st.  Need more info about the July 4th event?  Click Here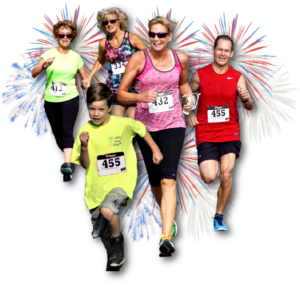 What Happens After Your Spirit Team Captain Registers Your Spirit Team?  After your team is registered the Team Captain will be provided with special FREE REGISTRATION CODES that are just for the members of your team.  Each team member will be given the free registration code by the Team Captain.  The individual team member must then go to the individual registration web site before June 15th,  register and enter the FREE ENTRY CODE at check out to get free entry.   HOW COOL IS THAT, A SHIRT, A RACE AND SUPPORT THE CANCER CLUB FOR ONLY $10?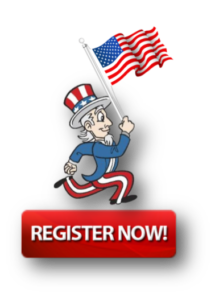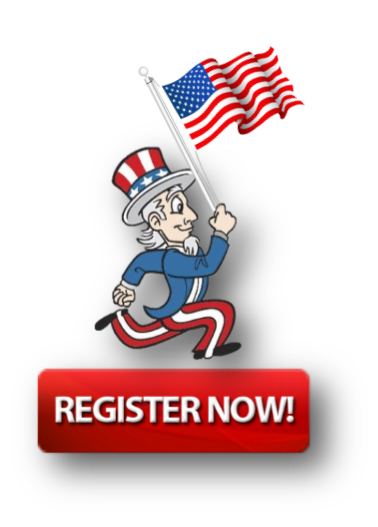 I Am Ready To Register My Team!  Just click on Uncle Sam.   A reminder this link is for SPIRIT TEAM CAPTAINS USE FOR SPIRIT TEAM REGISTRATION ONLY.   Thanks much!
Questions?  Contact Cancer Club Volunteer David Cooper at David@TeamCarpenter.org